Guided Wild Hog Hunts in Florida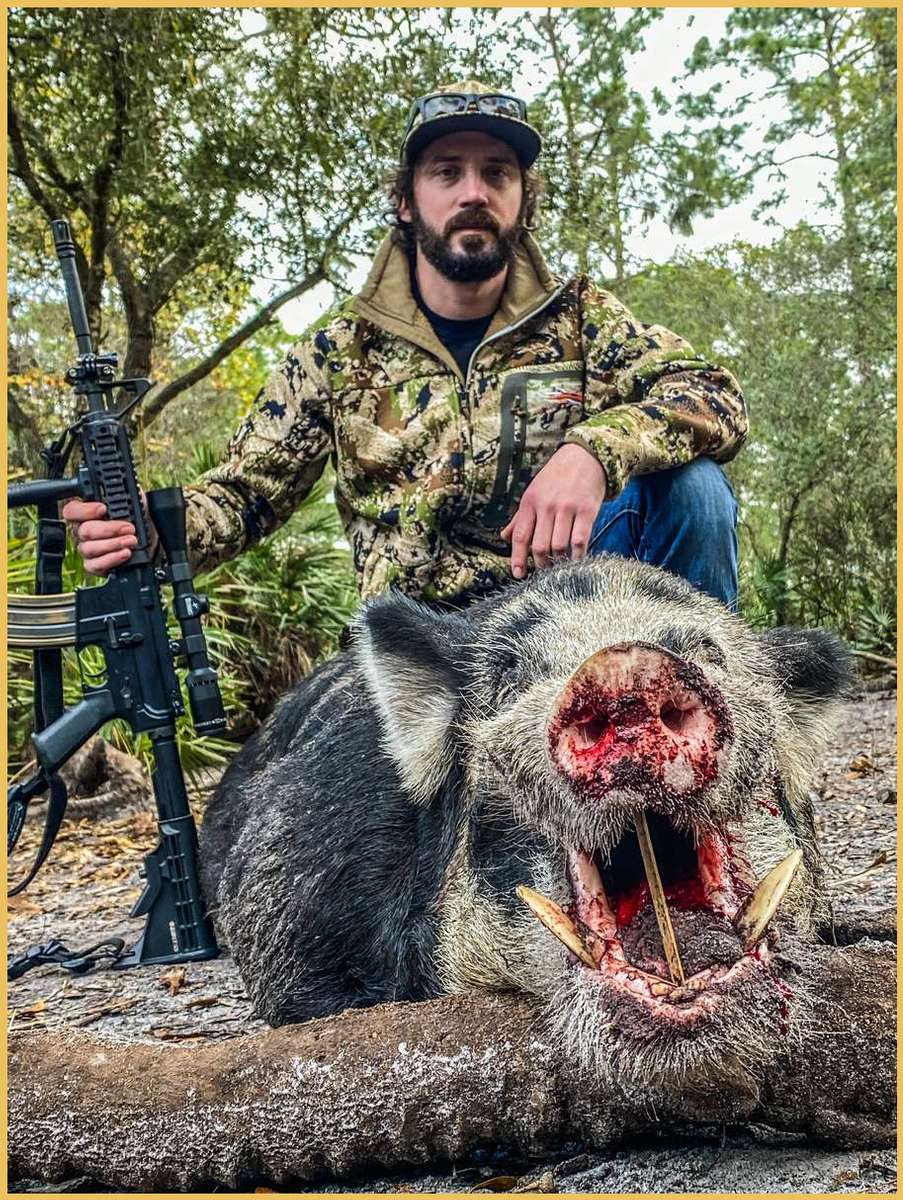 Private Land Hog Hunts in Florida
Southern Outdoor Outfitters offers hog hunting for both trophy and meat hogs. Trophy hogs are hogs that you would like to put on your wall to mount! They can be any size but will have teeth that are 2 inches or better. We guarantee shot opportunity. All of our hog hunts are conducted on private land, so there will be no pressure from public land access. You may use your weapon of choice when harvesting your wild boar, we can even get a little more up close and personal with the dogs and a knife!
We offer a few different methods for hunting hogs:
Spot and Stalk, tree stand, Thermal or hunt with dogs.
Whichever method you choose, you will leave with memories of a lifetime.
Meat hogs are hogs that are 60lbs and up. There is no weight limit for a meat hog. You can harvest that perfect BBQ hog for the smoker or that huge slab to feed your family for several weeks!
Skinning and Quartering are included in the price of your hunt.
We will provide guns if needed for a $25.00 gun rental fee.
No license is required to harvest wild hogs.
There is no season, we hunt hogs year-round, 7 days a week!
Wild Hog Hunt Rates:
Meat Hogs: $350
Trophy Hogs: $550
Dog & Knife: $750
Observer Fee: $100 per person. Observer fees are not collected on parent/minor child hunts.

Thermal Hog Hunts
Our thermal hunts consist of four hours of prime hog hunting on 100% private FREE RANGE property. Hogs are generally pack animals that like to travel in the dark of night. With our Pulsar thermal imaging scope and AR-15 .350 legend you are no longer at a disadvantage. All legal predators you encounter may be harvested on your thermal hog hunt.
Thermal Hog Hunt Rates:
$395 includes 1 hog of any size
Additional hogs may be harvested for $150 per
Skinning and Quartering is included.